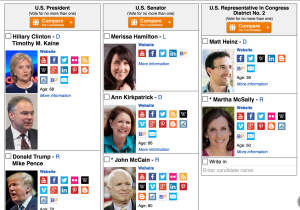 Get yer sample ballot here complete with links to candidates' websites
Not decided? Check out
Az Daily Star Voting Guide
or "Straight-up" endorsements from the Weekly which interestingly for a liberal rag include some Republicans
bTucson likes the Weekly recommendations for the most part, especially
Arizona Corporation Commission: Republican Bob Burns, Democrats Bill Mundell, Tom Chabin
Transparency and getting rid of the influence of dark money is where the fight is at right now, and we need to support the people who are for openness.
But for TUSD School Board, we support a slightly different slate: Betts Putnam-Hidalgo, Rachael Sedgwick, and Lori Riegel. I've known Betts personally for years, and she is straight as they come. Rachael Sedgwick is a former teacher – we need a teacher on the board! Lori Riegel works as a substitute teacher for TUSD now, and sees the problems firsthand.
On the rest of the local races, we'd go with the Weekly: Republican Napier for Sheriff, Democrat Staples for Assessor, YES on 205 and 206
Senate and Congress: Ann Kirkpatrick and Matt Heinz.
McCain has done good things in the past but recently he's been a disappointment, time for someone new.
Martha McSally voted to defund Planned Parenthood – and wherever you may stand on abortion, Planned Parenthood almost certainly prevents more abortions than it performs. Because that's where young people without a lot of money go for birth control. So defunding planned parenthood is an awful idea, whether you support a woman's right to choose or whether you think abortion should be stopped.
http://www.newyorker.com/news/daily-comment/planned-parenthood-means-fewer-abortions
President – Hilary.
Here's Bernie Sanders explaining how important that vote is:

Still not sure? Take a survey, and CrowdPAC will tell you which candidates fall closest to you on a ideological spectrum determined by a combination of their votes and the donations they accept.
(Disclaimer – I work for CrowdPAC as a data engineer. So if you find anything wrong with the data or results, tell me.)
However it comes out, wherever you stand on the issues, make sure you go and vote!
Motivation – well, if you happen to be hispanic, Jan Brewer thinks you won't bother.
So vote.